Also known as the Shangri-la blinds. The fabric is full of innovative functional design, and has the most elegant light effect in the window fabric industry. No other window fabric can surpass it in terms of light effect. The sheer shades brings the latest trend to window fabric. Not only can the natural light be adjusted to block the radiant heat, it can also bring extraordinary outdoor scenery.
Sheer shades, on the other hand, harmoniously unite the aesthetic beauty of gauzy curtains with the practicality of traditional window shades or blinds. Like zebra blinds, their design incorporates both sheer fabric and an opaque material to offer homeowners different light filtration and room-darkening options. Unlike zebra blinds, which alternate light and dark materials, sheer shades sandwich lightweight fabric vanes between panels of translucent fabric. This creates a completely different look.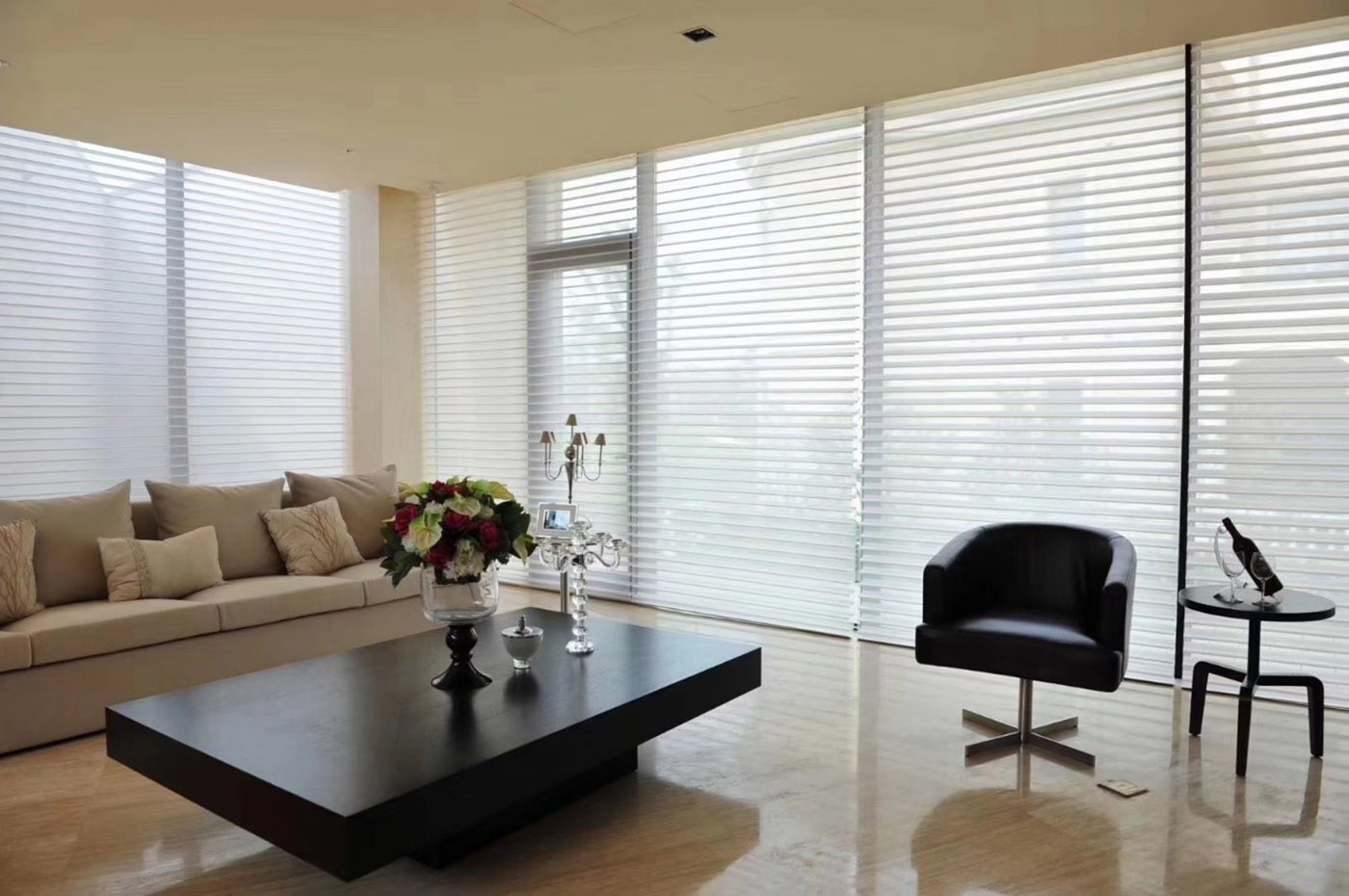 These window coverings can become a focal point in your home's design for all the right reasons. In addition to bringing a casual elegance into your space, you can order sheer shades that work with your room's color scheme. Our sheer shades are available in a variety of neutral tones with a few lovely pops of color thrown in.
If you have windows facing other residences or a busy street, it can often seem like you need to sacrifice your views and your natural light if you want privacy. With sheer shades, you can have your window covering cake and eat it, too. The gauzy fabric lets you look out and enjoy Mother Nature and soak up the sunshine even when you're indoors, but it also prevents onlookers from seeing exactly what you're up to.
3.They offer excellent light filtration
Sheer shades offer homeowners a lot of flexibility in how much light they allow into a space. When they're completely open, with the blinds turned parallel to the floor, you're left with essentially two layers of filmy fabric that filters out the glare from the sun without making your room look dim. Thanks to this feature, light-filtering sheer shades are also a wonderful option for finishing rooms that don't get a lot of natural light during the day. 
Whether you're looking to soften a high-contrast space, add a bit of whimsicality to a room or layer more texture in your interior, sheer shades can help you accomplish your home design goals. They offer a more delicate appearance than basic blinds and can lend a warmer and less formal look to your home.
No matter what type of window covering you're interested in—or if you're having trouble deciding between two different styles or products—the experts here at HanDe Blinds are standing by to help you make the perfect choice for your home. Give us a call or chat with our pros online today.
---
Post time: Dec-29-2021